Cox 1125-4-325E Electric Hose Reel
LIMITED TIME ONLY - LOW FIXED RATE GROUND SHIPPING (to lower 48 states, a small insurance charge will be added; AK, HI, PR or Express Options please call for shipping quote: 800-675-7485)
Includes 1/3 HP 12-Volt electric rewind motor & brass swivel with nitrile o-rings.
Capacity 300' 1/2" Hose or 400' 3/8" Hose.
A great reel for pest control, weed control & landscape applications.
NOTE: Includes Cox Hose Reel ONLY, no hose, fittings, roller guides, etc.
Get the Push Button Switch, Solenoid & 50 Amp Fuse to properly wire reel (sold separately).
We strongly recommend adding Cox 15353 Roller Guides to extend hose life, protect vehicle and to make hose rollout much easier.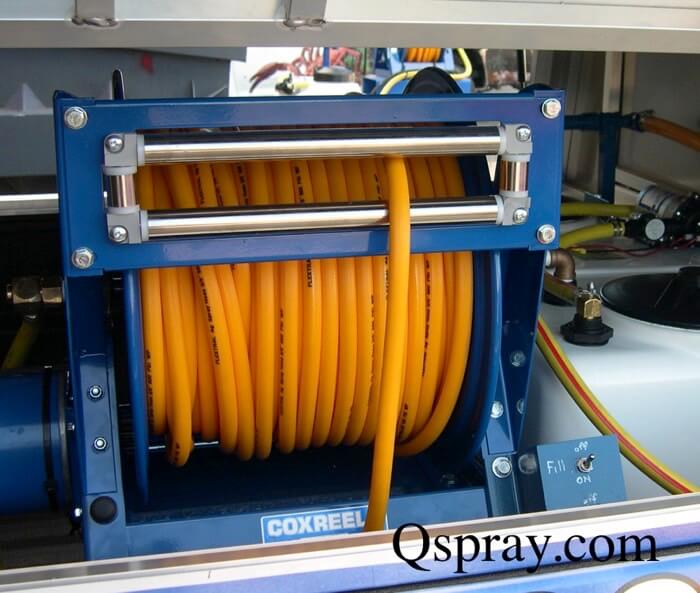 Product Videos
Coxreels 1125 Series with Electric Motor 01:45
https://www.qspray.com/cox-1125-4-325e-electric-hose-reel/ The Cox Hose Reel 1125-4-325E, is a long name to help describe what the reel will do for you. It holds 325' of ½" hose or 400-450' of 3/8" hose and E simply means it's electric. Many move from the manual reel to the electric after time and when they are tired of winding up their hose in the heat of the day. The reel is best for pest, weed control and lawn applications. This is a heavy duty piece of equipment has: 3,000 lb PSI brass swivel, one third horsepower motor, heavy duty bearings and the outlet where your hose trail connects has a bend in it so the hose comes straight up, helping extend the life of your hose. Be careful when reeling hose back on to evenly distribute it across the entire reel, overloading one side will cause binding and often causes the reel to spin out of true and it is an expensive repair. Qspray believes in carrying all the parts for service and repair on equipment that it sells so that you know exactly where to come should you ever need a spare part.