Birchmeier 20K Senior Backpack Sprayer - 5 gallons
Birchmeier Part #113-470-01
2 Year Manufacturer's warranty.
Completely rebuildable. Birchmeier is the Best Backpack. Period!
This is the largest of the Birchmeier Backpacks. It is used by those who want a large backpack for increased productivity.
Short Time Only - Low Fixed Rate GROUND Shipping to lower 48 states. AK, HI, PR or Express Options please call for shipping quote.
Protect your investment & eliminate downtime - Get the Birchmeier Year 1 Maintenance Kit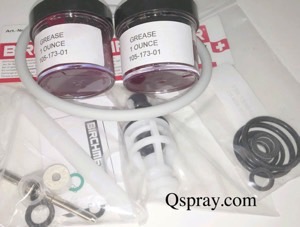 Product Videos
The Quality of Birchmeier Backpack Sprayers 00:45
https://www.qspray.com/product-category/backpack-sprayers/birchmeier-backpack-sprayers/ Birchmeier Backpacks have been created with exceptional quality for the demanding professional. They are undeniable the most reliable professional backpack sprayer on the market. Check out more about their quality now.