B&G 1630 PAS - Regular, 18" Wand 110 Volt - Portable Aerosol System 18" Wand, Regular Model.
Adjust from a very fine ULV fog to a heavy mist to handle most applications.
Curtis Dyna Fog Universal Flushing Solution will protect your investment, clean your unit, reduce service issues and ensure proper flow rate and results. Order Now!
Rinse unit with clean water after UFS.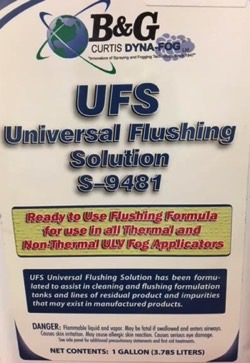 Product Videos
B&G Portable Units: Commercial vs Regular Grade 02:36
https://www.qspray.com/shop-brands/b-g/b-g-foggers-aerosols/ There are 4 models of the B&G Portable Aerosol Sprayer (PAS). The two main differences in the models are the sprayer wand length – there is a 9" wand that fits conveniently inside the box. The 18" wand does not and must be carried outside of the unit. The other main difference is there is a Regular and Commercial unit, the commercial unit having an exhaust fan to keep the unit cool with all day, every day use. If you intead to be a heavy user of the unit we highly suggest the commercial unit with the fan. Another key point we want to stress when using a B&G PAS you should always have the air valve either all the way open or all the way closed. Trying to adjust the flow of the spray with the air line can cause liquid to be pushed into the air lines and chemicals can make their way into the compressor. B&G will not warranty the unit if it's found to have chemical in the air lines from improper use. Check out Qspray.com to see more of the B&G Portable Aerosol Sprayer units and all the repair and replacement parts that we carry.