Curtis Dyna-Fog Hurricane ES Electrostatic Fogger
Part #62150-3
120 Volt
NO RETURNS ON THIS PRODUCT.
Curtis Dyna-Fog Hurricane ES Electrostatic Portable Aerosol Applicator (ULV / Mister) – Dispenses Water-based Products.
The Hurricane ES uses electrostatic technology to charge each droplet, providing uniform coverage on the entire target surface every time. This point-and-spray directional fogger is ideal for dispensing water-based products in commercial and residential areas, including hotels, schools, greenhouses, warehouses and medical facilities.
FEATURES

Electrostatic technology

Precision flow rate and droplet control

10-50 micron particle size

Double vortex nozle technology in each of the 3 nozzles

1-gallon tank capacity
USE: Handheld, motor-operated, 120 Volt.
COMMONLY SPRAYED SOLUTIONS: Water Based Insecticides, Disinfectants''
Works great for these industries:
Disinfection
Entertaiment
Pest Control
Odor Control
Vector Control
Agriculture
Smoke Remediation
Mold Control
Military
Curtis Dyna-Fog Universal Flushing Solution will protect your investment, clean your unit, reduce service issues and ensure proper flow rate and results. Order Now!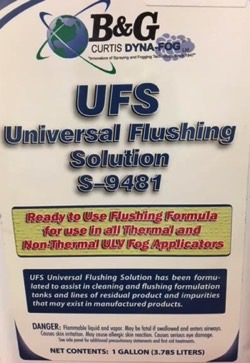 Product Videos
Qspray - Curtis DynaFog Hurricane Aerosol Applicator 01:03
https://www.qspray.com/shop-brands/curtis-dyna-fog-b-g/ The Curtis DynaFog Hurricane is a beautiful and powerful piece of equipment. The Dynafog Hurricane was designed to be portable, with a low-profile tank that makes tipping virtually impossible. Handle and on/off switch located at the top so you can control where you spray the Oil or Water based product. The solid brass adjustable metering valve accurately and consistently delivering the optimal output every time. The Hurricane can deliver disinfectants, germicides and insecticides and is used in locations such as hospitals, restaurants, nursing homes, greenhouses and schools. For quick, powerful applications when chemical treatment is needed we recommend the made in America Curtis Dynafog Hurricane, get yours from Qspray.com today. #curtisdynafog #pestcontrolfogger #curtishurricane #hurricanefogger