Cox 1125-4-200E Electric Hose Reel
LIMITED TIME ONLY - LOW FIXED RATE GROUND SHIPPING (to lower 48 states, a small insurance charge will be added; AK, HI, PR or Express Options please call for shipping quote: 800-675-7485)
Includes 1/3 HP 12-volt electric rewind motor & brass swivel with nitrile o-rings.
Capacity 200' 1/2" Hose or 300' 3/8" Hose.
A great reel for pest control, weed control & landscape applications.
NOTE: Includes Cox Hose Reel ONLY, no hose, fittings, roller guides, etc.
We recommend Push Button Switch, Solenoid & 50 Amp Fuse to properly wire reel (sold separately).
We strongly recommend adding Cox 15353 Roller Guides to extend hose life, protect vehicle and to make hose rollout much easier.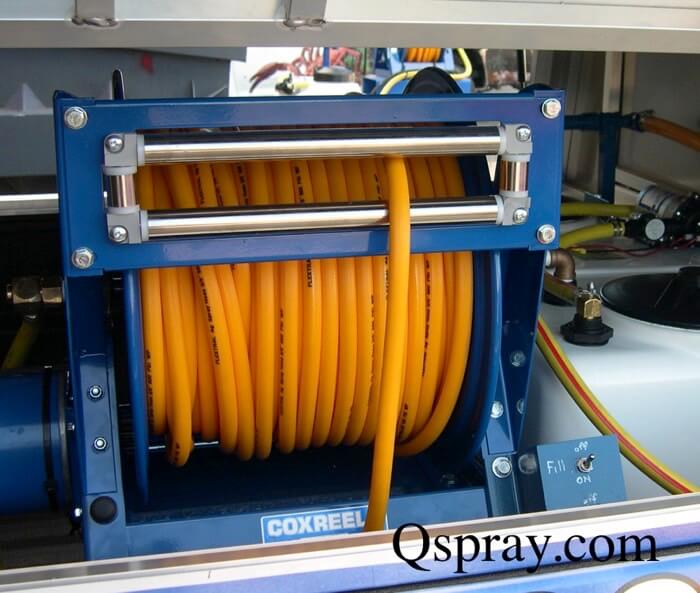 Product Videos
Coxreel Electric Hose Reel 1125-4-200E 01:52
https://www.qspray.com/cox-1125-4-200e-electric-hose-reel/ The Cox 1125-4-200E is a beautiful, heavy duty piece of equipment that is a great addition to any lawn and garden or pest control company truck. The E simply means its electric versus the manual model. It has a one-third horse power motor on the side which is just right for this size reel. While a solid piece of equipment that has a two-year manufacturer warranty you have to be careful to wind the hose evenly across the drum. If there is an overload on either side it can pinch between the frame and drum which will throw it out of true and that is an expensive problem to have. We suggest purchasing a push button switch that shuts off when the button is released, removing the possibility of flipping the switch on and walking away and destroy your reel. If you have more questions or are ready to purchase call or email Qspray.com today, we'll be happy to answer all your questions.