MARUYAMA MS40LI Electric Backpack
Short Time Only - Free GROUND Shipping to lower 48 states.
NOTE: Due to US DOT regulations, this item can only ship by Fedex Ground. We cannot ship to HI or PR.
If free or fixed rate shipping items are returned, customer pays shipping both ways.
4 Gallon rechargeable quick-charge, Maruyama battery backpack sprayer.
This unit is powerful.
Battery: 18V3.0 Ah lithium-ion
Max Pressure: 145 PSI
Dimensions: 9.8" x 14.6" x 22"
Weight: 11.7 lbs
Pump: Uniflow pump (differential type)
Suction: .39 gal/min (1.5 L/min)
Motor: DC
Fuse: 10 A
Continuous Spray Time: 120 Min in Medium pressure mode; 45 Min in High-pressure mode
Recharging time: 22 Minutes
This 4-gallon electric sprayer includes 1 battery, primary spray tip (cone to pin stream spray) and alternate tip (dual nozzle), and a user manual.
Keep an Extra Battery on hand so you are never down!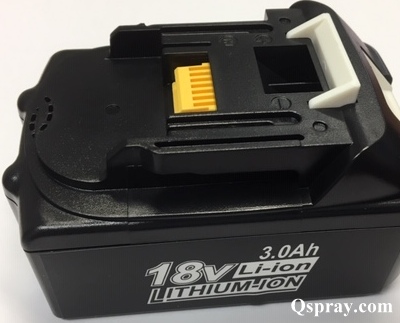 NOTE:
A new Maruyama MS40LI battery backpack sprayer or one that has been in storage for a time may not pump unless the priming bulb is depressed several times. This brings liquid to the pump, and the pump will then pump.
The priming bulb can be found between the back pad and the back of the tank on the left-hand side. Priming instructions are on the top of page 8 in the manual. Read the owner's manual for additional information.
Caution! Do not run the pump without water, as pump failure can result.